Associations & Certifications
Restoration Techs are trained and certified by the IICRC in the following areas:
Applied Structural Drying
Odor Control
Carpet Cleaning
Restoration Techs is certified by: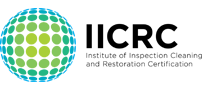 IICRC
IICRC has served as the Industry Guardian for the cleaning, inspection and restoration service industries for more than 30 years. As a non-profit certification organization, IICRC helps ensure that you have access to trusted and trained cleaning professionals by establishing and monitoring certification programs and standards for these industries.

Certified Restorer
The Certified Restorer® (CR) Certification Program focuses on damage repair and raising committed restorers to a higher level of professional ability. Restoration Techs feels it is important to continually expand our education with regards to the newest restoration procedures in order to provide our customers with the best service.

Green Risk Professional
Green Risk Professionals have the knowledge and expertise of using green and environmentally friendly construction and products when restoring your property.

EPA Lead Safe Certified Firm
EPA Lead Safe Certified organizations are trained by the EPA (Environmental Protection Agency) and follow lead safe work practices. These practices aim to protect the public from lead-based paint hazards.
Restoration Techs is an active member of:
Better Business Bureau® (BBB)
BBB is the authority on trust in the marketplace. BBB sets and upholds high standards for ethical marketplace behavior. BBB accreditation is a coveted honor earned by elite businesses and charities. BBB is the preeminent resource to turn to for objective, unbiased information on businesses and charities. We have an A+ rating with the BBB.

Indoor Air Quality Associaton
The Indoor Air Quality Association (IAQA) was established in 1995 to promote uniform standards, procedures and protocols in the Indoor Air Quality industry.
Restoration Industry Association (RIA)
The Restoration Industry Association , Inc. (RIA) is the leading trade association for cleaning and restoration professionals worldwide, and the foremost authority, trainer and educator in the industry.
Chicagoland Apartment Association (CAA)
The Chicagoland Apartment Association advances the rental housing industry by providing education; legislative and informational support, enabling members to operate successfully while contributing to the community around them. CAA is an affiliate of the National Apartment Association, the leading national advocate for quality rental housing.
We are a DKI Diamond Service Provider Member